About us
When partners Tim and Amy Brady first opened their small taproom in Brattleboro in 2006, they had no idea how a craft beer only establishment would fare. In 2011 they joined forces with friend and businessman David Hiler and took a chance on a huge expansion project, building out a beautiful location on the banks of the Connecticut River. Luckily with the support of the beer community, that small craft beer bar has grown into the Whetstone you see today.
We're proud to be part of our Vermont community and the larger community of Independent Craft Brewers.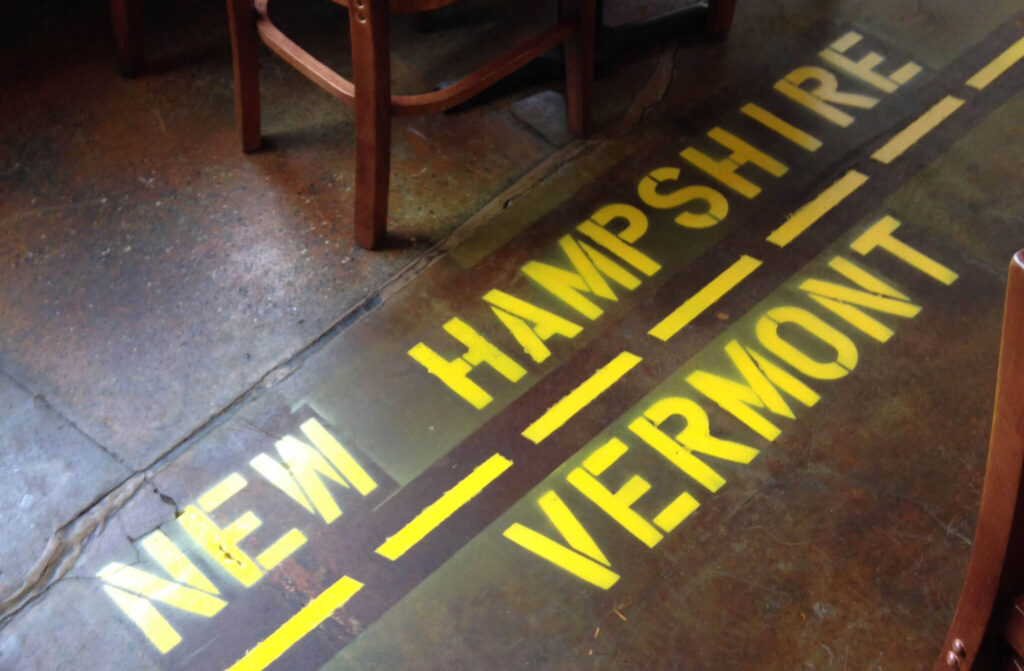 The State Line Story
Oddly enough, the USGS state line separating Vermont and New Hampshire actually runs through a portion of The Station.
---
How'd it happen?
In 1903, the original wooden bridge at this crossing was replaced by a toll-free iron bridge at a cost of $43,434.68.
Liscom's bridge was replaced in 1920 by a 330-foot-long Pennsylvania truss, designed by John Storrs and built by the American Bridge Company.
To support this new structure, new footings were poured and set deep into the river bed. This new foundation structure was built in the waterway, extending the "land" on the Vermont side of the river by about 5 feet. However the USGS lines and monuments (markers) had long been established.
Years later when various buildings were constructed, including the gas tank that gave our building its unique shape, the footings were used as the base of the foundation and an unofficially "interstate" building was born.
Of course, legally New Hampshire and Vermont use the Connecticut River as the dividing line between states, with the water belonging to New Hampshire. So other than conversation value, there's no legal standing of the property in 2 states (so yes, we still collect VT taxes on either side of the line)
But we're the only place that we know where you can do a 2 state "beer tour" under one roof!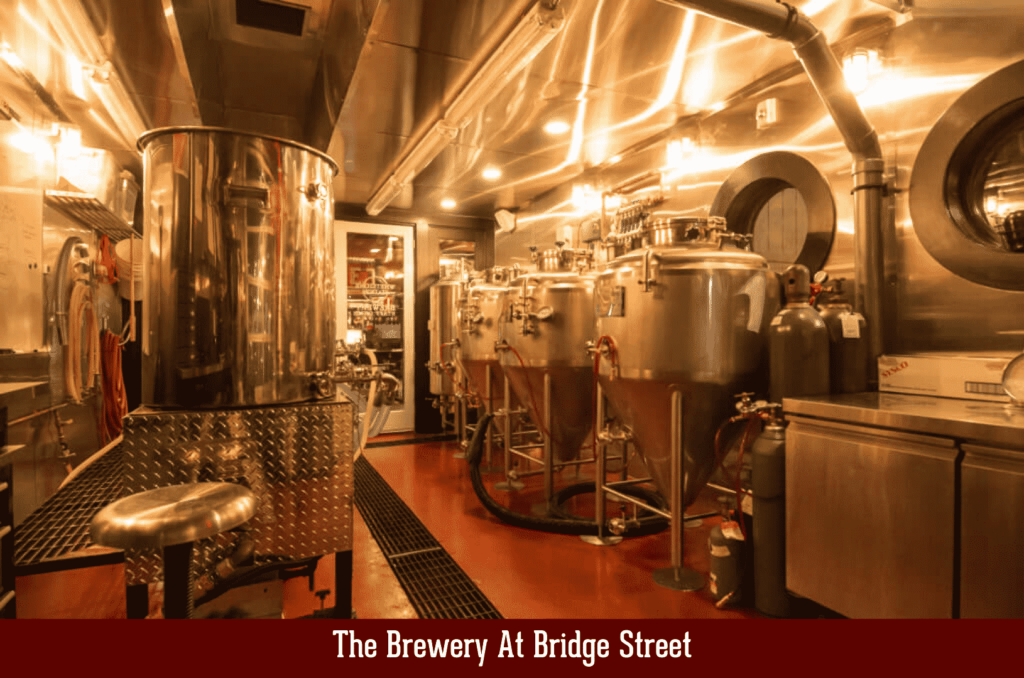 Our Breweries
Nestled in the heart of downtown Brattleboro, VT, on the banks of the Connecticut River, Whetstone Station Restaurant and Brewery has been serving up delicious food and beers since 2012. We started with a 3.5-barrel (108.5 gal) brew system located right in the restaurant on Bridge Street. It was hard to believe that we could produce over 1,000 kegs of our beer each year from our tiny little brewery, and almost every drop of it sold right on site, at one of our bars or in our bier garten.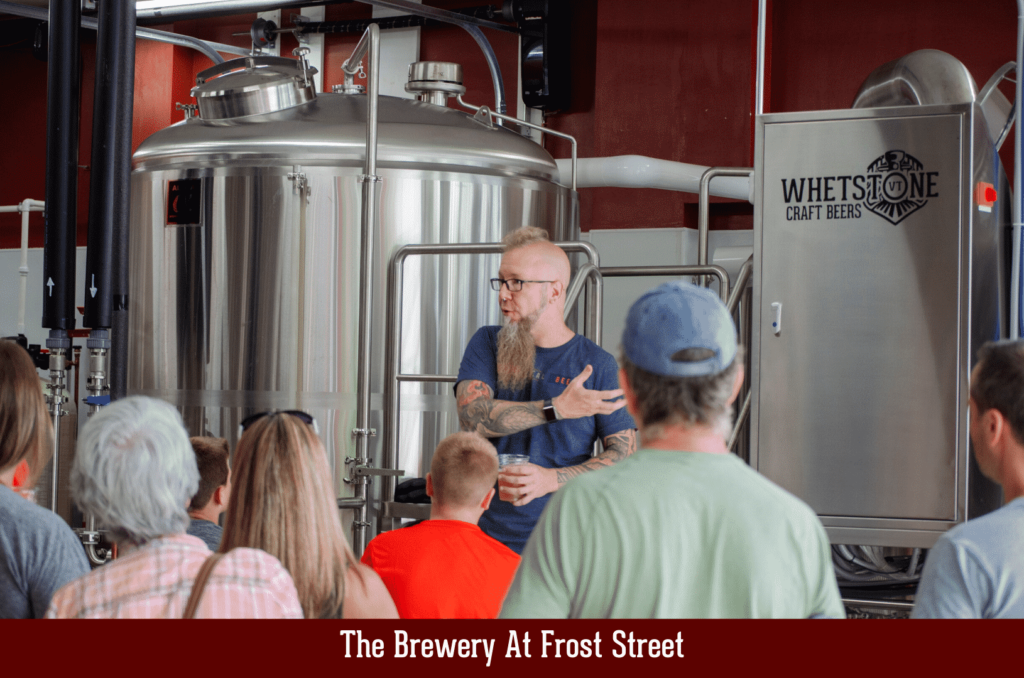 Brewery Expansion
in the summer of 2019, we started brewing in our brand new 15-barrel (465 gal) production brewery on 39 Frost Street in Brattleboro. A bigger brew house means more Whetstone beer and for the first time expanding Whetstone Beer beyond our own walls.
Today you can find our beer at the best bars, restaurants and retail shops throughout Vermont (via Craft) and Massachusetts (via BBC).
Meet some of our amazing team.
We're lucky to have some of the best in the business as part of the Whetstone Team.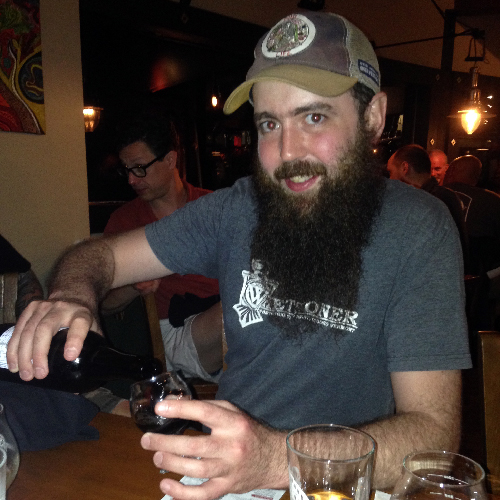 Connor Busch
Head Brewer / Brewery Ops Director
The only thing Connor loves more than brewing is the Pittsburgh Penguins. With more than 15 years experience brewing up creative craft beers, Connor is a man of few words but exceptional talent. When he's not mashing in, or mashing out Connor can typically be found watching and playing ice hockey. A Brattleboro native, Connor can't properly start his day without his bagel and coffee from Mocha Joes. He may or may not, also be one of the guys behind the secret, magical bubble displays on Main Street during gallery walk…
David Morgan
Brewer
David began his brewing career as a volunteer brewer at Shoveltown Brewing, learning the ropes while working on a farm just down the road in Easton, Massachusetts. His passion for the craft led him to become the assistant brewer at Rockingham Brewing, and after a migration over to Vermont, he was welcomed aboard the Whetstone team and we couldn't be happier! David spends his time playing music, brewing at home, and anytime he's not hanging out with his family, you can find him somewhere in the mountains bushwhacking, camping, or just soaking up that crisp mountain air.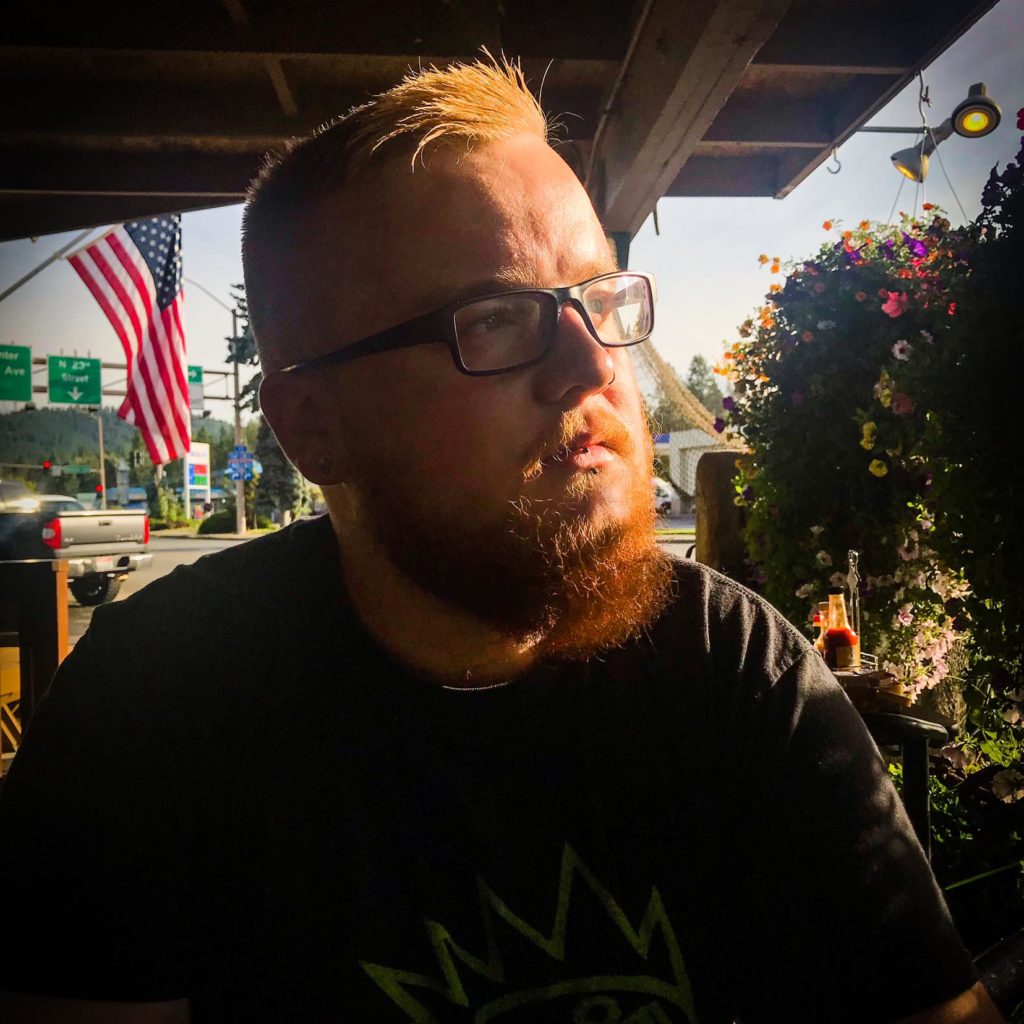 Derek Hall
Assistant Brewer / Brewery Admin
A Massachusetts native now residing in New Hampshire and working in Vermont, Derek loves being a New Englander through and through. After recently graduating from Keene State College with a degree in Communication and Music, he quickly landed in Brattleboro and is loving every second of it. As a homebrewer himself, Derek found a love for beer (also thanks to his wife for introducing him to the world of craft beer) and is proud to be a part of the Whetstone Team. He is in charge of all things social media, photography, some event planning, working with the brewers and filling crowlers, and other neat side projects that keep him busy.
Join the Whetstone Team!
We're hiring! If you're driven, passionate and personable we want to talk to you!